Updated:

@

Summary / Temperature
Wind
Rain
Outlook

---

70.8°F






Comfortable



Feels like:

71°F



24-hr difference
5.6°F

Today
Yesterday
High:

75.7°F


12:52pm
70.8°F
2:13pm
Low:

46.2°F


6:55am
49.4°F
7:03am

SW




2.6


Gust:


4.2 mph

1

Bft -

Light Air

Today:

11.5 mph

1:26pm

Gust Month: 37.8 mph March 25

Rain Today:

0.00 in

Rain Rate (/hr):

0.000 in

Rain Yesterday:

0.00 in

Storm Rain:
0.00 in
This Month:

0.15 in

Season Total:

17.61 in

3 rain days in March.

Wednesday


Sunny



Humidity & Barometer
Almanac
Moon

Humidity:

40

%
Dew Point:

45.3°F

Barometer:

29.950 inHg

3-Hr Trend:
Falling

| | |
| --- | --- |
| Sunrise: | 6:40am |
| Sunset: | 7:05pm |
| Moonrise: | 7:14am |
| Moonset: | 6:50pm |

Waxing Crescent
1%
Illuminated

UV Index Forecast
UV Index Forecast
NWS Forecast - Mission Trails - Outlook: Tonight & Wednesday
Tonight


Mostly Clear


Lo

51 °F

NWS Mission Trails: Mostly clear, with a low around 51. West wind 5 to 10 mph becoming east after midnight. Winds could gust as high as 20 mph.

WXSIM forecast: Clear. High 75°. UV index up to 7. Wind west-northwest around 12 mph.

Wednesday


Sunny


Hi

81 °F

NWS Mission Trails: Sunny, with a high near 81. Light and variable wind becoming west 5 to 10 mph in the afternoon. Winds could gust as high as 20 mph.


WXSIM forecast: Clear. Low 48°. Wind northwest around 3 mph in the evening, becoming east-northeast after midnight.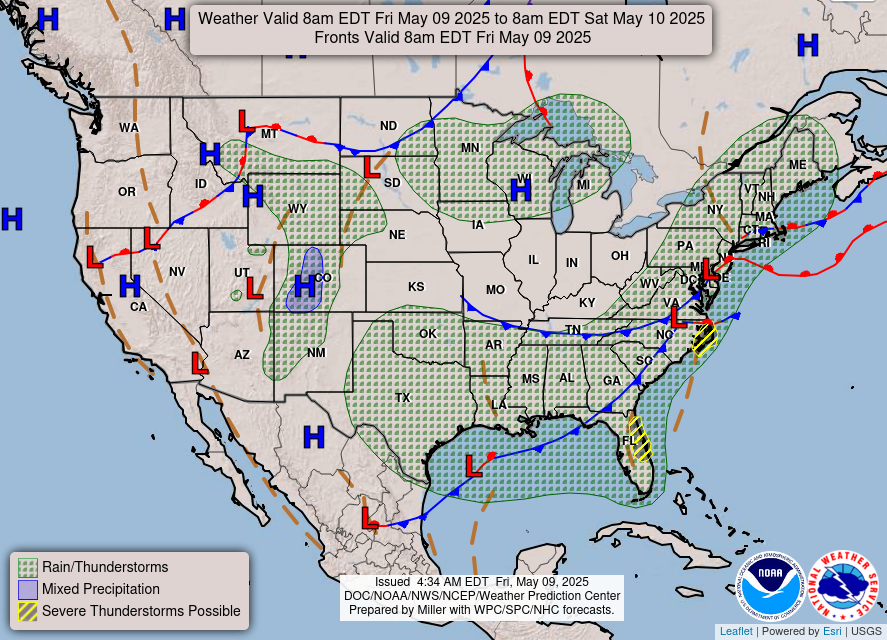 Tropical Cyclone Debbie Near Australia
The Japan Meteorological Agency's Himawari-8 satellite captured this true-color image of Tropical Cyclone Debbie closing in on the northeastern coast of Australia at 0510 UTC, March 27, 2017. According to the Joint Typhoon Warning Center (JWTC), Debbie is located approximately 295 nautical miles east-southeast of Cairns, Australia, and has tracked toward the southwest at a speed of approximately 5 miles per hour over the past 6 hours. The storm has maximum sustained winds of about 100 miles per hour with gusts of 125 miles per hour. According to JWTC forecasters, Debbie is expected to maintain a southward trajectory with favorable environmental conditions until it makes landfall, which is expected in the next 12 to 24 hours. Afterward, the storm is predicted to erode rapidly and dissipate completely within 48 hours.
Courtesy of NOAA Environmental Visualization Laboratory