Updated:

@

Summary / Temperature
Wind
Rain
Outlook

Clear

67.9°F






Comfortable



Feels like:

68°F



24-hr difference
-0.3°F

Today
Yesterday
High:

67.9°F


12:02pm
69.0°F
1:05pm
Low:

37.2°F


6:33am
39.9°F
7:14am

W




1.5


Gust:


1.0 mph

0

Bft -

Light Air

Today:

5.0 mph

12:03pm

Gust Month: 19.0 mph December 7

Rain Today:

0.00 in

Rain Rate (/hr):

0.000 in

Rain Yesterday:

0.00 in

Storm Rain:
0.00 in
This Month:

0.00 in

Season Total:

0.15 in

21 days since last rain.

Tonight


Mostly Clear



Humidity & Barometer
Almanac
Moon

Humidity:

24

%
Dew Point:

29.7°F

Barometer:

30.132 inHg

3-Hr Trend:
Falling

| | |
| --- | --- |
| Sunrise: | 6:45am |
| Sunset: | 4:44pm |
| Moonrise: | 6:52am |
| Moonset: | 4:36pm |

New Moon
0%
Illuminated

UV Index Forecast
UV Index Forecast
NWS Forecast - Mission Trails - Outlook: This Afternoon & Tonight
This
Afternoon

Sunny


Hi

72 °F

NWS Mission Trails: Sunny, with a high near 72. Light southwest wind becoming west 5 to 10 mph.

WXSIM forecast: Clear. High 69°. Wind south around 6 mph.


Tonight


Mostly Clear


Lo

45 °F

NWS Mission Trails: Mostly clear, with a low around 45. Northeast wind around 5 mph becoming calm in the evening.


WXSIM forecast: Mostly clear in the evening, becoming clear after midnight. Low 37°. Wind east around 5 mph.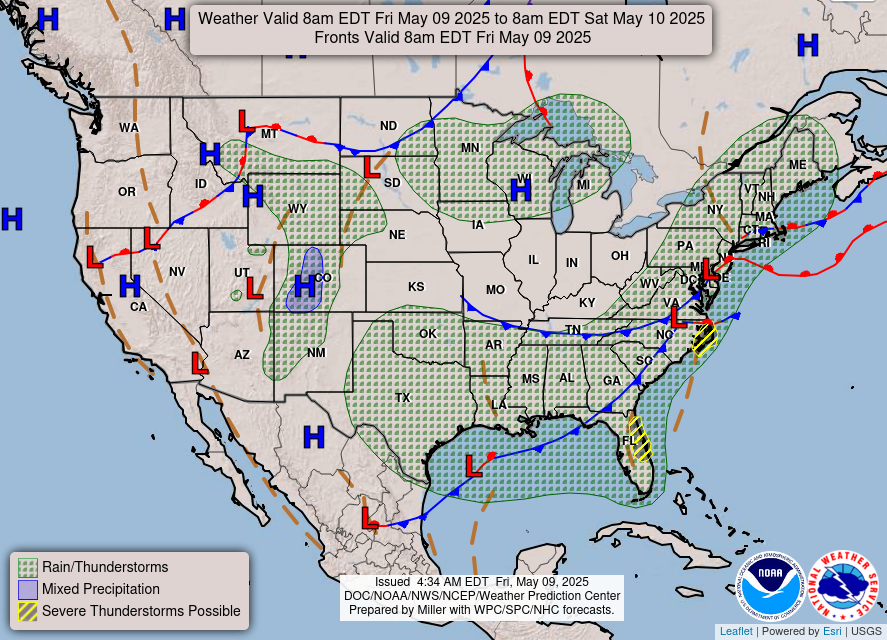 NOAA-20 VIIRS day-night band captures Japan and the Korean Peninsula
The NOAA-20 polar-orbiting satellite's Visible Infrared Imaging Radiometer Suite (VIIRS) sent back its first day-night band images twenty-five days after the satellite was launched. In this image, captured December 13, 2017, the bright lights of urban centers such as Tokyo and Seoul stand out in sharp contrast to more rural land areas and dark ocean surfaces. The glow of fishing vessels off the coast of South Korea is also clearly visible.The VIIRS day-night band layer is created using a sensing technique designed to capture low-light emissions under varying illumination conditions, and is displayed as a gray-scale image. A higher signal-to-noise ratio compared with the Suomi NPP satellite's day-night band results in sharper imagery.
Courtesy of NOAA Environmental Visualization Laboratory