Updated:

@

Summary / Temperature
Wind
Rain
Outlook

Clear

62.9°F






Comfortable



Feels like:

63°F



24-hr difference
1.3°F

Today
Yesterday
High:

62.9°F


9:09am
73.6°F
12:04pm
Low:

42.0°F


6:29am
42.6°F
6:01am

WSW




1.0


Gust:


1.0 mph

0

Bft -

Calm

Today:

3.5 mph

8:18am

Gust Month: 8.1 mph November 4

Rain Today:

0.00 in

Rain Rate (/hr):

0.000 in

Rain Yesterday:

0.00 in

Storm Rain:
0.00 in
This Month:

0.00 in

Season Total:

0.14 in

30 days since last rain.

Tonight


Partly Cloudy


Humidity & Barometer
Almanac
Moon

Humidity:

34

%
Dew Point:

34.1°F

Barometer:

30.075 inHg

3-Hr Trend:
Rising

| | |
| --- | --- |
| Sunrise: | 6:23am |
| Sunset: | 4:44pm |
| Moonrise: | 8:07am |
| Moonset: | 5:55pm |

Waxing Crescent
5%
Illuminated

UV Index Forecast
UV Index Forecast
NWS Forecast - Mission Trails - Outlook: Today & Tonight
Today


Mostly Sunny

Hi

80 °F

NWS Mission Trails: Mostly sunny, with a high near 80. Calm wind becoming west around 5 mph in the afternoon.

WXSIM forecast: Cloudy in the morning, becoming mostly cloudy in the afternoon. High 68°. Wind southeast around 4 mph in the morning, becoming west-southwest in the afternoon.


Tonight


Partly Cloudy

Lo

51 °F

NWS Mission Trails: Partly cloudy, with a low around 51. North wind around 5 mph becoming calm.


WXSIM forecast: Partly to mostly cloudy. Low 44°. Wind east-northeast around 4 mph.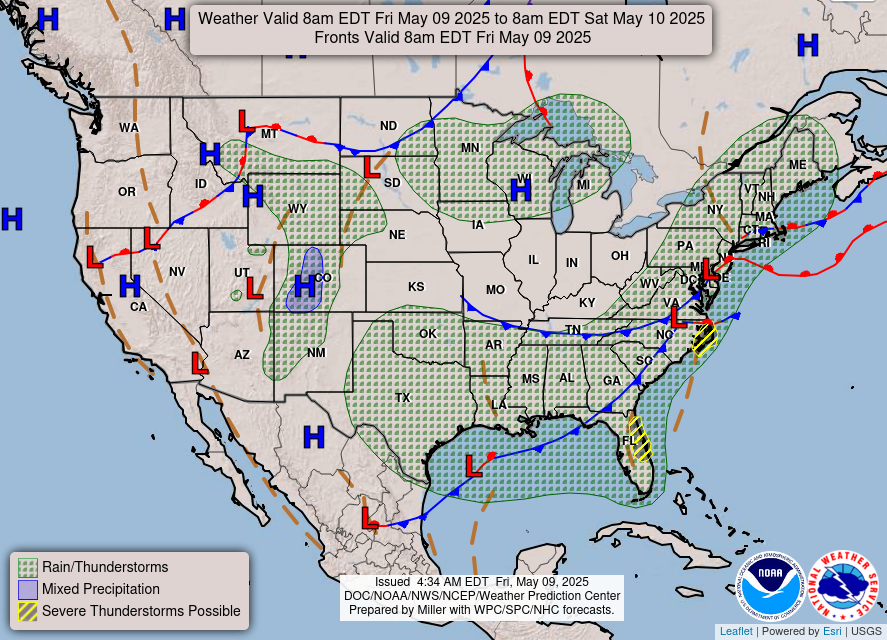 The Chesapeake Bay - NOAA Monitors a Critical Habitat
The Chesapeake Bay, North America's largest estuary, provides a vital habitat for local marine life which supports the ecology and economy of Maryland, Virginia, Delaware and the District of Columbia. NOAA plays a significant role in the Bay -- not only do "smart buoys" collect and transmit real-time weather, water conditions, and water quality data, but NOAA and its partners help to restore conditions in the watersheds of the Bay by monitoring nutrients, and working with communities to ensure the long-term ecological function of the Bay. Captured November 13, 2016, this Suomi NPP VIIRS image using three of the sensor's high resolution imagery channels to differentiate the land types in the areas, based on their visual and thermal differences. Bright pink areas are more barren, due to rock or urbanization, while green areas are vegetated.
Courtesy of NOAA Environmental Visualization Laboratory